Welcome to Worry Head, a safe space created by a man behind his chronically ill wife, dedicated to those who are very often overlooked – caregivers.
"The best gift you can ever give to a chronically ill partner is your unconditional love and support" – Lucjan
After years of trial and error, professional help, and some brutal honesty, my wife and I have realized what keeps our marriage healthy.
Our mutual support during her struggles with endometriosis & fibromyalgia, and their mental health impact is a daily challenge for both of us. 
But I've learned over time that it is best to focus on changing myself rather than trying to "fix" my wife's health. To take some pressure of my fellow caregivers I offer you 5 Printable FREEBIES! 
Caring for a chronically ill spouse is profoundly fulfilling, bringing people closer together. However, it can also be very challenging, both – physically and emotionally, sometimes even isolating.
Worry Head isn't about a chronically ill person. It's actually the opposite!
The purpose of this blog is to raise awareness about the unspoken challenges of caregivers, who are often left unnoticed.
No one ever asks "how are YOU today" because the majority of caregivers keep their feelings bottled up for themselves in order not to "hurt" their chronically ill partner.
That paints the misleading picture of caregivers being okay…
There are millions of blogs addressing the needs of the chronically ill, but very few tackle the challenges of the people who support them.


I'm NOT here to validate how I feel, not to moan and brag about my life. I crossed that bridge a decade ago. After all, I am not the one who suffers from daily chronic pain.
Nevertheless, I'm a man on a mission to:
Help caregivers with their emotional and mental struggles, educate them about endometriosis and fibromyalgia, provide them with self-care tips, and make them finally feel understood.


Help sufferers understand how we feel, so they can help us help them better, which in return puts the end of the sufferer feeling like a burden, and they can contribute to the relationship instead.
Your satisfaction drives us!
"This has been one of the best articles I've ever read. For a man to create a page for other men to go to educate themselves on what Endometriosis is and how it affects a relationship.

This is a wonderful man who loves his wife and is doing what most men/loved one's should be doing.

They too suffer from our day to day lives.

I cried in a few places while reading this article to my husband. He too had tears in his eyes and had been my rock so many times.  I wish more men were like the author of Worry Head..."
"I had my laparoscopy a month ago... severe endometriosis, more than 7 years struggling...

Your post really touched me, thankfully I have an extremely supportive partner, he is just like you, helping me a lot to get over this.  Please do rise awareness and thank you for doing this!"
"Almost word for word, your journey replicates my wife's. It is uncanny. By breaking the silence we can support others. Keep up the great work that you do!

My wife lost her job at the start of the year. Has suffered terribly mentally since and constantly battles with pains everyday. I honestly don't know how she copes. All endo sufferers are absolute warriors.

Thank you. I'm loving your content since I've followed and you inspire me to continue doing what I do!"
I was misdiagnosed for 26 years. My doctor found it by accident and gave me a pamphlet to read. That's all. My husband is very supportive but, still has trouble SHOWING instead of just words. Thank you for this blog. I'm not alone."
We're just a couple of normal people with a BIG Dream to help other couples and people like you find a happier path in life despite chronic illness. Get to know our story and the reasons behind creating Worry Head… [read more]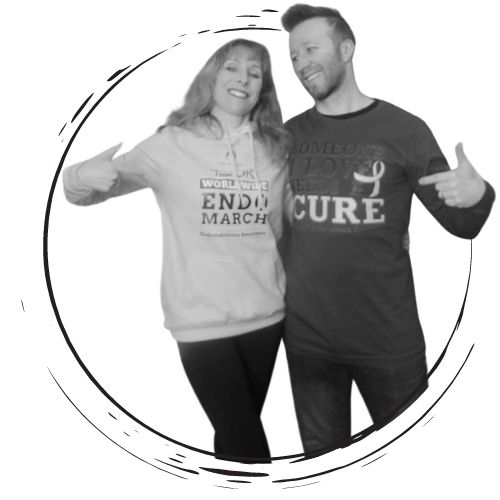 As a team, our deep purpose is to help couples combat the effects chronic illness has on their relationship and find a happier path in life!
Because the emotional luggage that comes with physical pain can be truly devastating!
We are a couple of "normal" people with a BIG Dream to help others, providing a safe space to express their thoughts and emotions.
Together, we cover the ground that is familiar to both – sufferers and supporters.
All filled with 13 years of personal experience, transparency, and radical honesty!