Welcome to WH shop
The best thing you can do to help manage chronic illness is to educate yourself about it.
The more you know about the condition, the better equipped you will be to manage it.
One way that you can learn more about a chronic condition is to read eBooks about it.
Endo-Tool: Endometriosis for Men
Endometriosis is a chronic condition that can cause pain and affect many areas of a woman's life. If you are the partner of a woman who suffers from endometriosis, you know how challenging it can be to balance her care with your relationship.
I have created an eBook that was designed specifically for male partners of women who suffer from endometriosis. Endo-Tool gives a lot of medical information about the illness, but also how to navigate through the challenges endometriosis brings to your relationship.
The book reveals how to support your partner in the process of her diagnosis, treatment, and management of endometriosis.
Fibromyalgia for Caring Partners
Understanding what fibromyalgia is and how it affects your partner can help you better support and care for them. This book is perfect for men who want to learn about fibro, how to cope with their own struggles, and how to help their partner battle this condition.
It gives you an intimate view of the challenges and triumphs of living with fibromyalgia because caring for a partner with fibro can be very challenging, as this condition can cause chronic pain and fatigue, as well as other symptoms that can impact daily life.
"Fibromyalgia for Caring Partners" is a must-read for anyone to better understand this condition.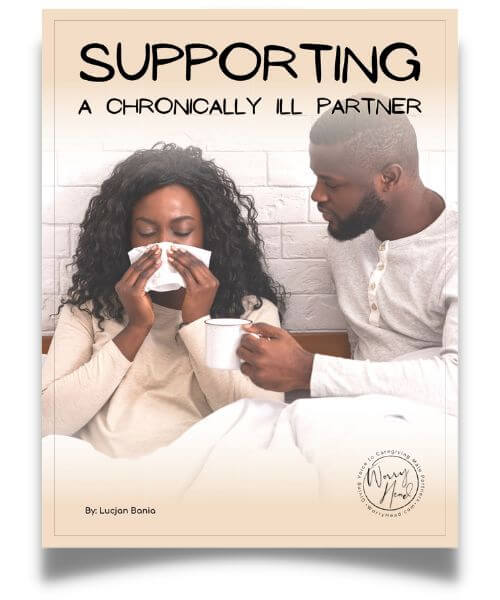 Supporting a Chronically Ill Partner
When a loved one becomes chronically ill, partners can feel lost and alone. They may not know where to find information or support for themselves, often feeling marginalized and unsupported by others. It can be hard for partners (like yourself) to get the emotional and informational support they need.
It can be incredibly difficult to cope with them, and you may feel like you're constantly walking on eggshells, not knowing what to say or do to help. You may feel like you're carrying the burden of care all by yourself.
With the information and tools provided in this book, you can develop the skills needed to create a supportive and loving partnership with your chronically ill partner.