Men don't understand endometriosis…
Why men don't understand endometriosis?
As a husband of a woman who has stage IV deep infiltrating endometriosis, I noticed how much men don't understand endometriosis.
There is a lack of endometriosis education for men. This is why there is a high endometriosis divorce rate among couples with this condition.
There isn't enough endometriosis awareness, which also results in a lack of knowledge of male doctors who are supposed to help women diagnose this insidious condition.
This situation takes a huge emotional toll on women because doctors label them as anxious and depressed instead of believing them, even though their problem is clearly physical.
So why men don't understand endometriosis?
Men don't understand endometriosis because they don't suffer from it themselves. Some men are insensitive to their partner's pain. They don't have sympathy for women and don't believe that their symptoms are real. Men want sex despite women being in pain. There's not enough awareness of endometriosis for men.
My personal experience…
Chronic illness and chronic pain cause strain on couples, but at the same time, it also gives a lot of opportunities for couples to grow their fragile relationship.
When I married this beautiful Italian girl, I never knew what lay ahead. She had occasionally a lot of pain, but being professional dancers, we knew that pain was a part of the job.
When her illness began to occur, I didn't know yet what was going on. It took years to get my wife to find out what it was.
When she was diagnosed, naturally, I focused all my attention on my chronically ill wife. Because my wife has been diagnosed with multiple chronic illnesses, it lessened her coping skills.
Because my wife never showed her weaknesses it impacted her mental health. She didn't want to be a burden to me, and before her symptoms became more noticeable, I didn't know what to do.
Men don't understand endometriosis for two reasons – they aren't informed, or they don't want to.
I've never been selfish, I always wanted to help my wife, but at the time I couldn't even spell "endometriosis", let alone understand it.
Women are very independent, especially those who suffer from endometriosis. My wife has deep infiltrating endometriosis, fibromyalgia, and chronic fatigue syndrome.
But even though she has a triple multimorbidity, she still refuses to give up. She puts up with daily pain but she's still very independent. She wants to have a reason to get out of bed every morning.
Endometriosis education for men!
Men don't understand endometriosis, therefore endometriosis education for men is crucial.
Not knowing what endometriosis is, men won't be able to support their partners as they should, male doctors won't treat women effectively.
There are plenty of sites written by and for women who suffer from endometriosis, but there is absolutely none written for, and most importantly, by partners of these women.
I've learned over a decade of supporting my wife how challenging it can be for male partners like myself.
And yet, we are invisible, we are forgotten, our struggles aren't spoken of…
There is a big need for endometriosis education for men! I noticed this gap in the "endo-sphere", someone had to fill it. It happens to be me, but I am very privileged to do it because the voices of caring male partners need to be heard.
Because men don't understand endometriosis doesn't mean it's too late to change that.
I want to make it easy for you, so regardless, if you are a man who wants to help his partner, or you are a woman with endo reading this, I am going to help you both.
I wrote with my wife's help an amazing "Endo-Tool, Endometriosis for Men" e-Book, and I give away its FREE 1st chapter that contains 20 pages filled with a lot of value, including:
What is endometriosis?
What are the symptoms?
What causes endometriosis?
What does endometriosis look like?
What are the stages?
What are the types?
What is adenomyosis and how is it related to endometriosis?
Why do some women develop severe endo and others don't?
Does endometriosis cause infertility?
How is endometriosis diagnosed?
Do types and stages affect the treatment?
Recurrence of endometriosis after excision surgery.
FREE Chapter of "Endo-Tool"
Endometriosis e-Book for Men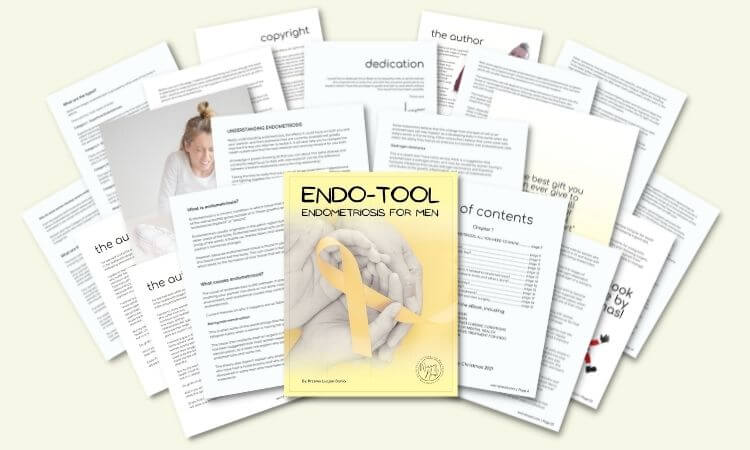 Endometriosis is complex!
Endometriosis is a long-term chronic condition in which tissue similar to the lining of the womb grows in other places, such as the ovaries and fallopian tubes.
Symptoms of endometriosis include pain in the lower tummy or back called "pelvic pain", severe periods, and pain during or after sex. All that usually adds up to more symptoms, including fatigue, IBS, and so-called "endo-belly".
The only way to truly diagnose endometriosis is by having surgery called "laparoscopy". This is also the most effective and known treatment.
But there's more to it…
According to doctors, aside from laparoscopy, endometriosis treatment includes painkillers and hormones, however, most women find the best results with a holistic approach.
This means a low FodMap diet, rest, avoidance of stress, and light exercise such as pilates. Since men don't understand endometriosis, having a partner who does helps women a lot.
It's not clear what causes endometriosis, although recent studies have shown that the NPSR1 gene is responsible for the development of endometriosis.
The lack of understanding…
A person who depends on others may become increasingly unable to function alone, however, in the case of a person who is more independent, it is different, as the person may become isolated.
People's natural inclination is to excuse their behaviors because of an illness. It works with short-term illnesses, but with chronic illnesses, it isn't as straightforward and simple for others to understand.
When others don't understand endometriosis, it can be very upsetting because those who suffer are tired of the constant explanations of how it affects them, even if they wished to.
Additionally, women often have trouble getting diagnosed as the diagnosis of endometriosis is for many doctors difficult to understand.
Many relationships are naturally weak, and with a chronic illness, they are very vulnerable. Male partners who lack communication skills are quick to accuse and point fingers, hence the need for endometriosis education for men.
Because men don't understand endometriosis, women with this chronic disease have plenty of questions about their partners, including:
Why isn't he involved?
Why doesn't he believe my pain?
Why is he so quiet when I'm hurting?
How can I meet his sexual needs?
In order to find answers to those questions, I'm going to discuss them one by one, including my own personal experience.
Let's begin…
Why isn't he involved?
The answer to this question is, as always, it depends. Because it depends on the partner's attitude and of the circumstances.
This question implies that the partner should understand endometriosis pain and disease, but this is not the case.
Sure, men don't understand endometriosis, but it doesn't mean that they are obligated to know all about it. At the same time, if they commit to their relationship, they should learn in order to support their partner.
They should try to understand. Although for men menstrual cycle is something alien. Adding to it endometriosis can be totally confusing.
If men get involved in learning about women's endometriosis and its diagnosis, they tend to have a much better understanding. The doctors should encourage partners to learn about the disease.
I always attend my wife at consultations, pre-op, and post-op visits, even webinars, endo group meetings, and even her CBT therapy, as this brutal chronic illness affects her mental health.
She feels she's not dealing with all her struggles alone, which builds our relationship, and doesn't allow it to break.
It helped us survive one of the darkest moments when M asked me to divorce her on a handful of occasions, and get through her suicidal attempts.
Male partners who aren't involved tend to give a number of different excuses. Some say that they think their loved one doesn't want them to be present, and others say they are uncomfortable in any medical situation.
Men don't understand endometriosis and being in a situation they find confusing seems out of their control.
Man's nature is to fix things, but as I always say – you cannot fix your partner's health, instead, you should change your approach to your support.
How to involve him?
Women should find a doctor who will be willing to take extra time for them in order to educate their partners about endometriosis.
I noticed that some doctors were intimidated by my presence. Being the husband behind their patient, coming to her appointments made the doctors obviously uncomfortable as they knew that I had no scruples to speak up, however, it had to be done.
Communication is vital! Women need to explain to their partners how they feel. They have to do it in a way that doesn't make their partner angry or would make them feel responsible for their pain.
Great idea is to provide them with informational materials and then ask what they think about it.
You may seek such information online and find what you need, but it takes time to find all you are looking for. I did it for you – "Endo-Tool" is designed to provide endometriosis education for men specifically.
But if you want another option, there is one book that always stood out to me the most before I wrote my own. It is "Endometriosis – Healing from the Inside Out".
This book dives deep into the whole topic of using a vast range of safe natural therapies and nutrition to help manage endometriosis!
Why doesn't he believe my pain?
Unlike the BSGE specialist in endometriosis who performs laparoscopy, this condition cannot be seen or touched.
Endometriosis is invisible. This is why men don't understand endometriosis. They cannot see the symptoms or pain, especially due to the nature of it being chronic and unpredictable.
Communication is the key. Not only about the disease but also about the way you both feel.
Men can't read their partner's mind. Women must tell them how and where it hurts. Some men can be very insensitive because they have never had an experience with immobilizing pain. They do not automatically understand or have sympathy.
How to explain endometriosis pain?
As I said, women have to say how and where it hurts, as specifically as they can, but also:
They should expect their man not to know anything about endometriosis and teach them what they feel.
Educate them by giving related to endometriosis sources.
Tell partners what steps to take toward learning more.
Ask for their help if they have to.
No matter how silly it may seem, be prepared to try each of your male partner's suggestions because it shows that you respect their judgment and welcome their participation.
The last point is an important one because as a man who doesn't suffer, I always felt powerless and useless. Being involved and feeling validated gives partners a reason to keep going.
Why is he so quiet when I'm hurting?
As male partners, we have been trained from childhood to provide and protect. A man who watches his wife endure severe pain he can't stop is like a threat to his manhood. He feels helpless to save her from something that he has no control of.
Some men completely withdraw. They are either selfish or feel like there is no way to fight if there is no cure. They simply don't know what to do. It is hard to comfort someone they feel like they were let down. The result is silence.
How to help reconnect?
I based my post on my personal experience which helped me learn how to reconnect with my wife, but I also based it on various online sources, however, my experience taught me a lot…
But one of the most important things women with endometriosis can do is let male partners know that they aren't expected to fix the problem and remind them that nobody is at fault.
It's great to tell men how much their closeness means. It helps to know that just comforting is one way of meeting their duties as your partner.
Convincing partners that they haven't let anyone down means the world to them. It doesn't seem like endometriosis education for men, but it definitely is. Do it in your own way.
How can I meet his sexual needs?
Well, that's a tough question. The answer is, as always, it depends… because every couple is different and they have different sexual desires.
It's very rare for men to experience anything that interferes with their sex drives unless it's their prostate. It's also uncommon for intercourse to cause pain to a man.
This makes it hard for a man to understand how endometriosis, pain, and fear of intercourse can interfere with a woman's sex drive.
I experienced it with my wife a lot. Sometimes the woman suffers through sexual activity or intercourse without saying anything.
My wife loves me and wants to satisfy me. She used to put up with her pain for the sake of my sexual satisfaction.
But I remember her moving away when I tried to penetrate her, we often didn't change positions, as she needed to feel comfortable, however, not telling me why, made me see it as selfishness on her part, even though it wasn't.
It's so hard to act enthusiastic when you're in pain. And the partner who loves her can often tell that something is wrong, I certainly noticed.
I just didn't know how. I assumed that I failed to satisfy her, but despite all that, we never moved further apart. We discussed everything since no problem had no solution for us anymore.
Discuss with your partner everything in order to satisfy his and your sexual needs. It has to go both ways.
Even in BDSM relationships, where one of the partners is dominant and the other is submissive, there has to be a rule. If one of the parties doesn't like something, they openly talk about it before they play.
Men and women approach sexuality differently. Some men don't understand how important is touching, caressing, and cuddling.
Women shouldn't let painful intercourse keep them from another form of sexual expression. I suggest you look into soft BDSM. Many women fantasize about submitting, being tied up and their bodies cherished.
After a long day at work and being independent, women love to unwind and let go. In their real life, they want to be in control. Behind the sheets, they want to let go.
Let your partner know the things you like them to do for you. Be creative and have fun!
I hope you found this helpful. If you liked it, my book focuses on endometriosis education for men. "Endo-Tool" is available with one click of a button below.
You get the 1st Chapter FREE and a big 33% discount on the whole book!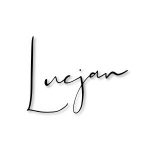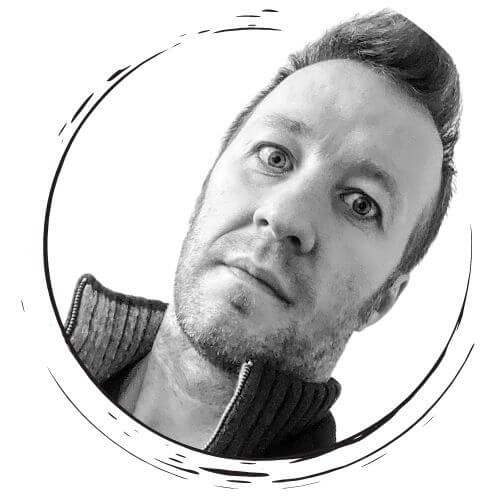 About Me
Hi, I'm Lucjan! The reason why I decided to create this blog was my beautiful wife, who experienced a lot of pain in life, but also the lack of information about endometriosis and fibromyalgia for men…