What does endometriosis pain actually feel like? [Infographic]
Figuring out exactly what does endometriosis pain actually feels like can be complicated, especially for a man, here's the answer:
Endometriosis pain varies from person to person. Pain might start before or during a period lasting several days or be short. It can feel sharp, stabbing, or feel like your insides are being pulled down. Endometriosis can cause pain in more than one area of your body.
Below I illustrate what does endometriosis pain actually feels like on my endometriosis pain infographic…
What are the types of endometriosis pain?
The answer to what are the types of endometriosis pain is complex because endometriosis has different types of pain, here's the short answer:
Endometriosis pain has different types, including sharp or razor-like, short or lasting, stabbing, pulling, localized like in your lower tummy or back (pelvic pain), or pain in more than one area of your body, pain during sex, pain after sex when peeing (bladder pain), when pooing (rectal pain).
The cramps women get during their periods can be painful, however, in women with endometriosis, the pain can be so intense it affects their basic tasks such as taking a shower or cooking. In my wife's case endometriosis pain stops her from doing the thing she loves the most – dancing.
So what does endometrial pain feel like?
Women report that endometriosis pain sometimes feels like extremely painful period cramps. Some women have their pain limited to the area around their uterus, other women (like my wife) experience pain in other areas of their bodies.
In addition to sharp abdominal pain, my wife experiences sciatic pain, rectal pain, pain when urinating, and also during her bowel movements. She also frequently pees, oftentimes at night.
Many women also feel pain in their legs, during intercourse, and after. Their pain also worsens during menstruation, and like in my wife's case, during ovulation.
My wife also experiences a sudden twinge, leg cramps, a dull throb, and nerve pain. Her pain eventually evolved into a full-bodied, widespread fibromyalgia disorder. Knowing what endometriosis pain actually feels like can be very complex. 31% of women can also cause fibromyalgia.
How to explain endometriosis pain to a guy?
Because women are more likely to answer what endometriosis pain feels like, I wanted to focus on the question of how to explain endometriosis pain to a guy, and so here is my answer:
The most noticeable symptom of endometriosis is pelvic pain although it radiates to other parts of the body. Most women experience cramping during their periods which is agonizing and increases over time and is difficult to bear, leading women to the hospital in need of strong pain relief.
But what makes explaining endometriosis pain to a guy so difficult?
Learning how to explain endometriosis pain to a guy feels like communicating in a completely different language. Women with endometriosis look healthy from a guy's point of view, even if are in agonizing pain at the time.
Endometriosis is invisible, it is an invisible illness, and unfortunately, men are visual creatures therefore it's difficult for us to understand.
Men can't experience endometriosis pain, this is why it's hard for men to make the connection. It's like trying to explain the pain of childbirth – it's impossible for a guy to understand.
Guys don't suffer from severe period pain either, we don't menstruate, but what I've learned talking to my wife is that, again, endometriosis causes pain in more than one area of your body, including:
Pelvic or belly pain may start before the period and last for several days. My wife has very intense pains, making her want to cut herself open.
Backache. The uterus and ovaries are near the back hence belly pain radiates to her back.
Leg pain is felt because of the nerves that connect to her groin, hips, and legs, all are also involved. The pain makes it hard to walk. My wife often limps or has to curl down.
Painful sex. In our case, it's almost non-existent. Many women with endometriosis feel pain while having sex or/and after, but they still try to please their partners, ignoring their own well-being.
Painful bowel movements. Depending on the affected areas, it might hurt to poop or/and make you constipated. This is the case for my wife, having stage IV deep infiltrating endometriosis.
If you are interested in finding more details about endometriosis, I wrote an "Endo-Tool, Endometriosis for Men" e-Book. You can get a FREE 1st chapter containing 20 pages filled with pure value, such as:
What is endometriosis?
What are the symptoms?
What causes endometriosis?
What does endometriosis look like?
What are the stages?
What are the types?
What is adenomyosis and how is it related to endometriosis?
Why do some women develop severe endo and others don't?
Does endometriosis cause infertility?
How is endometriosis diagnosed?
Do types and stages affect the treatment?
Recurrence of endometriosis after excision surgery.
FREE Chapter of "Endo-Tool"!
an Endometriosis for Men book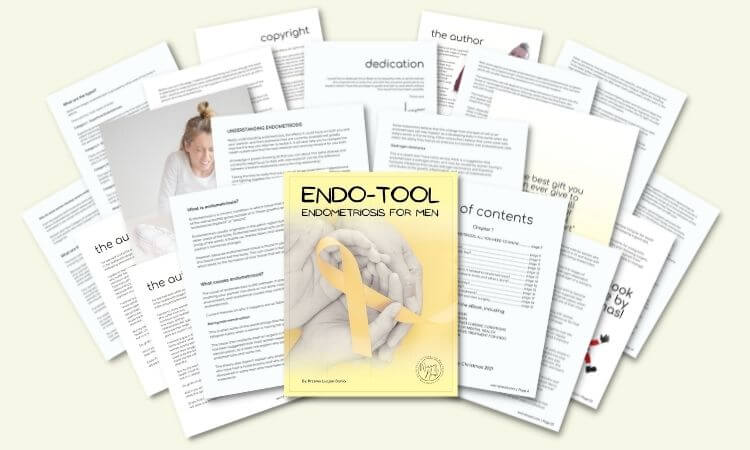 My own explanation on what does endometriosis pain feel like.
Imagine your testicles being squeezed in a vice. This vice tightens within each second, it tightens to the point that you feel like you are going to faint from the pain. You have this vice attached to your balls for minutes, even hours at the time. Wouldn't that make you feel terrible?
The pain will eventually let go and you may feel temporary relief, but soon it will come back again. When the vice tightens again, you begin to think that this is never going to end.
It seems like never-ending torture, but there's more – on the top of the vice squeezing your testicles, the pain radiates to your back, your legs, and stomach. You get gastric problems, heartburn, and acid reflux. That causes you to feel sick and not want to eat.
Moving on…
Even though endometriosis pain may feel different for every person, there are often a couple of factors that distinguish this kind of pain from the usual menstrual pain.
Endometriosis pain is chronic. It repeats, comes back prior to and during the menstrual period, and in some women, ovulation. This kind of pain is difficult to relieve as it is consistent.
If as a guy I wanted to explain endometriosis pain to a guy, I would do it in a way that men understand. Men are simple creatures, we need a simple explanation, not complicated medical terminology.
On this site, Caroline Macon explains that "Some months hurt worse than others. Sometimes I think the worst of my symptoms have gone away then I'll spend the weekend tied to a heating pad".
The bottom line is that endometriosis pain can be felt everywhere and living with endometriosis is a rollercoaster of physical, mental, emotional, social, family, work, and financial proportions. But if you want to learn how to help your partner with endometriosis, I can only recommend one book "Endometriosis – Healing from the Inside Out"!
This book dives deep into the whole topic of using a vast range of safe natural therapies and nutrition to help manage endometriosis. You can preview it for FREE or buy it very cheaply below. I truly recommend it!
I wish you all the very best, well-balanced treatment, and hope that this post answered the question of what does endometriosis pain actually feels like.
Take care of one another!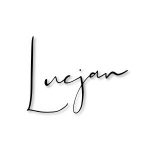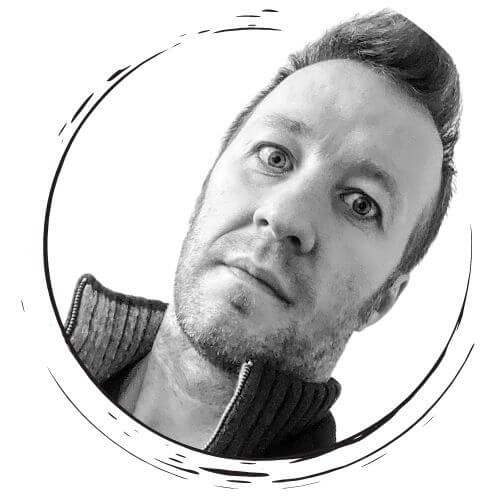 About Me
Hi, I'm Lucjan! The reason why I decided to create this blog was my beautiful wife, who experienced a lot of pain in life, but also the lack of information about endometriosis and fibromyalgia for men…