How to comfort someone with endometriosis? Endometriosis for men!
How to comfort someone with endometriosis?
For those unfamiliar with my work, I dedicated this blog to male partners of women who suffer from endometriosis and fibromyalgia. Today I answer a question of how to comfort someone with endometriosis because it's very close to my heart.
I am a husband of a woman who suffers from multimorbidity, meaning, she has at least two chronic conditions.
One of them is her advanced stage Iv deep infiltrating endometriosis, and the second one is fibromyalgia. Both chronic illnesses are characterized by respectively pelvic and widespread full-bodied pain.
A decade of my personal experience was mainly based on emotional support which was extremely challenging.
Not only does endometriosis impact us financially, economically, socially, and physically, this chronic condition took away the possibility of us becoming parents and having a healthy sex life, it almost ended our marriage and nearly took my wife's life.
How to comfort someone with endometriosis if you are not a woman? This is endometriosis for men! The answer is right below:
First and foremost, listen to her…
Be understanding of her needs.
Learn about endometriosis.
Go to her doctor's appointments!
Address financial challenges.
There are many ways you can comfort someone with endometriosis, however, such support needs to be psychological, emotional, mental, physical, social, family, marital, medical, and financial.
There are different aspects of knowing how to comfort someone with endometriosis, and I can tell you it isn't going to be easy.
But if you honestly care about your partner, you will do anything in your power to make her happy. I found the way, and I can put it in simple, two words – "be there".
Be there for your loved one, no matter what endometriosis throw at you. Never give up, be patient, and you will be okay…
I cover everything in more depth in my "Endo-Tool, Endometriosis for Men" e-Book. I give you the 1st chapter FREE containing 20 pages filled with value, such as:
What is endometriosis?
What are the symptoms?
What causes endometriosis?
What does endometriosis look like?
What are the stages?
What are the types?
What is adenomyosis and how is it related to endometriosis?
Why do some women develop severe endo and others don't?
Does endometriosis cause infertility?
How is endometriosis diagnosed?
Do types and stages affect the treatment?
Recurrence of endometriosis after excision surgery.
Get FREE "Endo-Tool"
Endometriosis for Men e-Book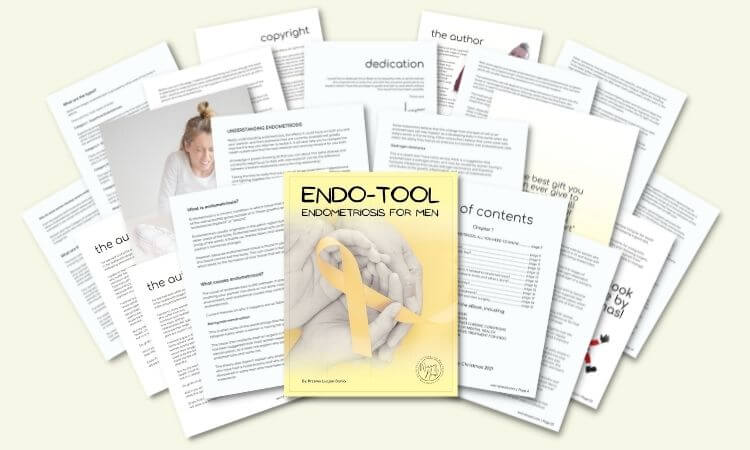 How to comfort someone with endometriosis?
As I said, comforting requires supporting her needs from many aspects, including psychological, emotional, mental, physical, social, family, marital, medical, and financial.
Psychological support can be given by a professional therapeutist. Cognitive-behavioral therapy (CBT for short) is the best way to do this. Ideally, the specialist should have experience in working with people suffering from chronic pain.
My wife had three separate CBT therapies, one of which was done by a woman who suffered from chronic pain herself. She was specializing in psychological support for chronically ill patients.
I would strongly suggest you spend some time finding a professional who understands chronic pain.
Emotional support should be mainly provided by you. Apart from family, you are the person closest to her. You want it or not, she counts on you. Be that man, support her emotionally.
Mental support is one of the most difficult parts I encounter. My wife tried to commit suicide on more than one occasion, luckily, I was there to talk her out of it and took good care of her afterward taking two months of work to keep an eye on M to support her.
But that's not all, my wife felt like a burden to me, she asked me on three separate occasions to divorce her for my sake. Luckily, I refused every single time. I'm happy I did because today we are both happy!
Physical support is something that you will have to get used to my friend.
Endometriosis is physically very demanding. Not only for your partner because of her pain and fatigue, but it's also going to affect you. You will have to cook, clean, move, lift, drive, shop, and do a lot of chores and basic tasks yourself.
The social aspect is important. You will have to take care of organizing meetings with friends, as she may not have the energy to do it herself.
Additionally, your partner may not feel like meeting people, and you will have to balance this between respecting her wishes and encouraging her to go out, as it will help her mental wellbeing.
The same applies to family support, bearing in mind, that some family members may not believe her invisible illness is real, which can be very distressing for your partner.
You'll have to discuss the matter with them when your partner isn't present, to keep her safe from their lack of understanding.
Martial support includes many aspects, one of which will be arguments that naturally occur. But unlike within a healthy marriage, it is going to be hard due to a lack of sex life.
Endometriosis causes in most cases pain during and after sex. It prevents a couple from having a healthy sex life.
Intimacy can be shown in many ways, and sex isn't only about penetration. For many men, however, it is difficult to comprehend, which can make or break a marriage.
Medical support is unavoidable. Knowing how to comfort someone with endometriosis requires medical assistance, regardless, of you, are professional or not.
You may require to call an ambulance, order a taxi, or drive your partner to the hospital.
Many times I had to do this because my wife was in excruciating pain to the point she was fainting. Furthermore, endometriosis restricts her diet causing severe iron anemia, so bear in mind to look into that.
Lastly, financial support. Not only your partner may not be able to work full-time, sometimes you will have to cancel your own work to support her.
The financial impact of endometriosis is a big problem for many relationships.
I found myself even taking two months off work to take care of my wife. Not only because of her frequent flare-ups, but also the anxiety and depression that stop her from functioning.
So, if you struggle to find a way how to comfort someone with endometriosis these are the aspects you have to take into account.
More useful advice…
From my personal experience, I found what works and what doesn't.
The most important changes I have made to improve the support and communication with my wife was the realization that instead of trying to "fix" my partner's health, I had to work on myself and my lack of knowledge about endometriosis.
First and foremost, listen to her because no amount of articles, books, even doctors will teach you what your partner is going through.
She will tell you all you need to know about how to comfort her without unnecessary fluff because she's an expert in how she feels, no doctor can manage that.
Remember, that no person is the same. Your partner is unique and she will respond to different kinds of support and treatment, either medical or natural.
My wife doesn't take any painkillers, hormones, or antidepressants. She prefers a holistic approach, which serves her well due to the fact that she doesn't have any side effects that medication does. She's no worse than women taking all the above medications.
Be understanding of her needs but don't neglect your own.
Have an open discussion with your partner and to make it easier to remember, take notes of what she tells you.
And don't forget about your own needs and wants. Remember that you sacrificed a part of yourself, a part of your life for her. It may sound weird but it's true.
Thinking of yourself isn't selfish, especially when you care for a chronically ill person. In order to learn how to comfort someone with endometriosis, you have to take care of yourself first. You won't be any help to her if you fall ill or mentally break.
Even though you will never be able to fully understand your partner's illness, as you are not a woman, learn about endometriosis. Do your research and tell her what you've learned.
Not only it shows how much you care about her, but it may also be helpful for your partner because there still might be things she doesn't know about.
Go to her doctor's appointments! This is a game-changer!
For many years my wife struggled to come out from her appointments with positive results. She was often ignored.
General practitioners did not honestly listen to her. Instead of following common sense, they followed a medical system that works against women.
Only when I attempted her appointments, things began to be clear and rosier.
Don't shy away from stepping in from the start, it will save a lot of time, wasted appointments, arguments, and sometimes money.
Saying that you have to address financial challenges. They will occur. But what I have learned over the last two years is that blogging is the best way to solve the financial challenges that endometriosis brings.
Since this post isn't dedicated to blogging but knowing how to comfort someone with endometriosis, I strongly recommend you to read one of my best posts on the subject of blogging:
What to do when you can't work because of caregiving? The best guide you will ever get!
On this happy note, I'll leave you to it. Think about blogging, it will truly improve your partner's life with this brutal illness, but also make your life and support much easier.
Take care for now my friend!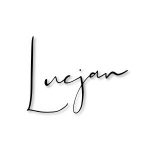 About Me
Hi, I'm Lucjan! The reason why I decided to create this blog was my beautiful wife, who experienced a lot of pain in life, but also the lack of information about endometriosis and fibromyalgia for men…
Disclosure:
We only partner with trusted companies offering products that help our readers achieve their goals! If you purchase through our links, we get paid at no additional cost to you! It helps us run the blog… Thank you!